Scooter Ramp School - Term Program (8 Weeks)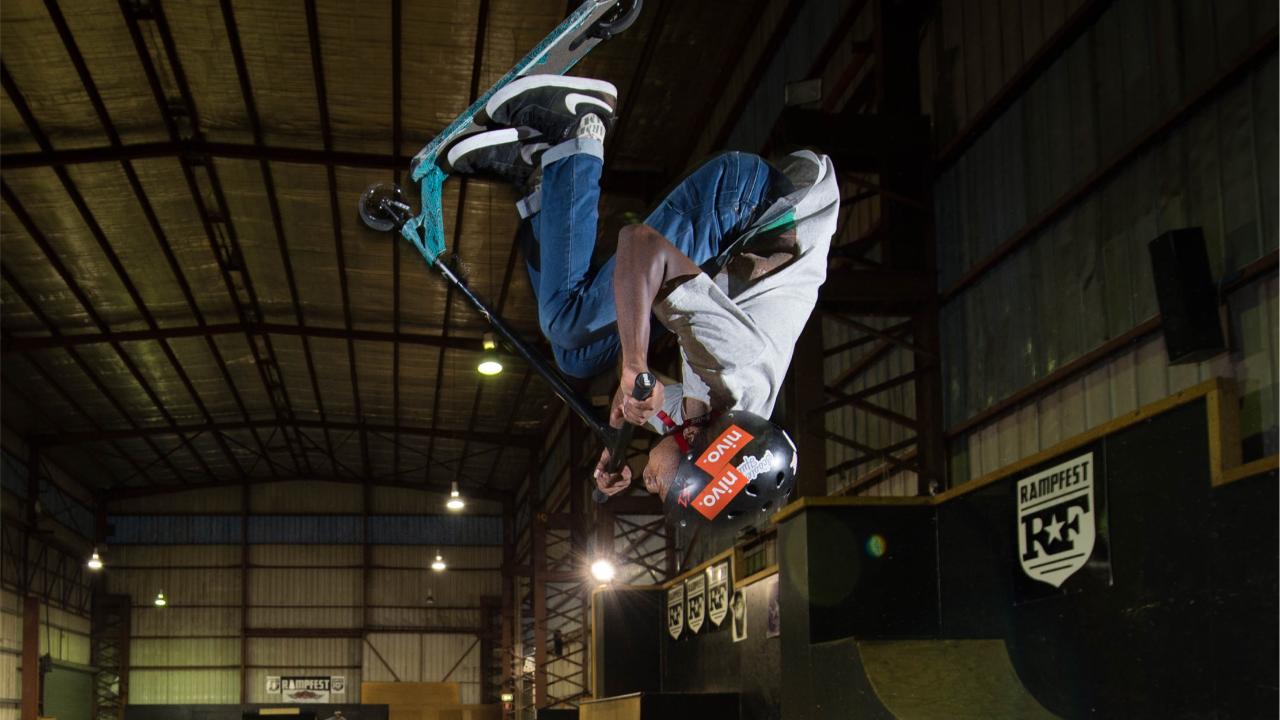 Duration: 60 Minutes (approx.)
Location: Braybrook, VIC
Product code: PCSJZZ
Next Program Starts: Tuesday 21st of July @ 5pm
Every Tuesday for 8 Weeks
Price: $199.95
Don't forget - Rampfest Members get 10% off all Ramp School Pricing - find out more about becoming a Member here: Annual Membership
Do you want to progress your Scooter Riding - learning new tricks and perfecting some of the old ones? Well this is your chance! Sign up for Ramp School at Rampfest! Our Coaches will work with you every week to improve skills, set progress goals, practice for competition runs, and build confidence to ensure you can keep improving, even in their own time!
And along with that - we'll have some fun, meet new riding buddies, and just generally get stoked!
Our Term Coaching Programs are suitable for kids (or adults) of any age or ability who are keen to progress their riding. If you're an absolute beginner, come along and you'll be shredding in no time! And if you're a bit more advanced, we'll be able to show you some serious tricks. Our professional riders & coaches will make sure you get the best coaching, catered to you!
Book the whole Term in for $199.95 (Rampfest Members - $179.95)
Casual Pricing is $34.95 p/person, per clinic.
Scooter Term Coaching Clinic Info
Runs for 8 consecutive weeks
Clinics start at 5pm every Tuesday and will run for 60 mins each (depending on the number of participants - with larger groups, clinics take longer so that everyone gets plenty of coaching time)
You can even stay later and work on your goals
Suitable for All Ages & Abilities and caters to advanced-pro riders
Consistent coaches for the whole program - ensuring a proper progress guide and advancement
Park entry included in the term pricing
Our 8x Lessons will be broken down into the following key areas:
Week 1 - Baseline Skills Testing
Week 2 - Jumping skills - fly outs, long n low, box jumps etc
Week 3 - Quarter piep airing skills (air both ways, alley oop airing)
Week 4 - Hip Skills (using big and small hips, jump both directions)
Week 5 - Spine / spox skills (pulling back off ramps, nosing into a lander)
Week 6 - Bowl skills (pumping, carving, lines etc)
Week 7 - Tech skills
Week 8 - Skills Testing - Progression session to monitor improvement
Sign Up Now to make sure you don't miss out!