Ramp Camp - Holiday Program (5 Day)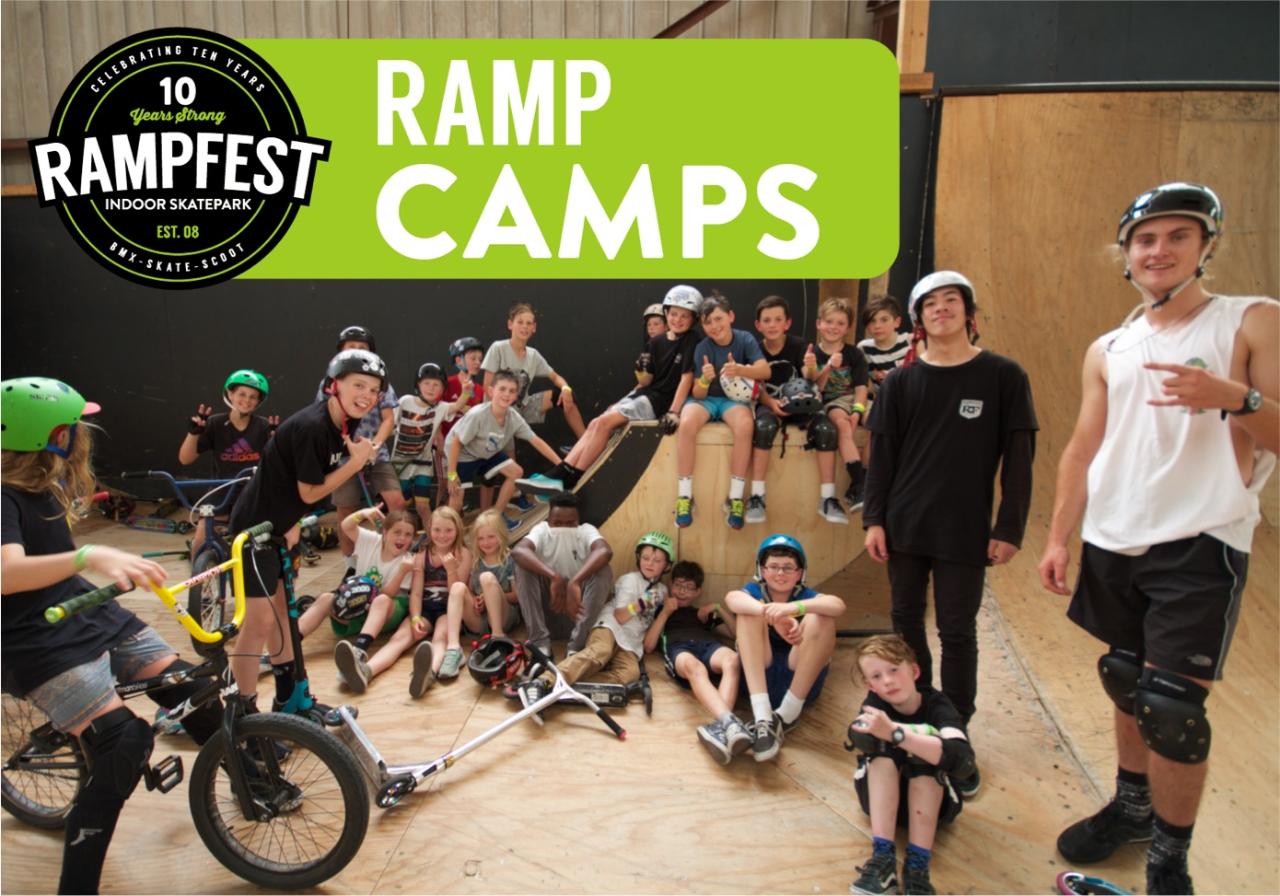 Duration: 6 Hours (approx.)
Location: Braybrook, VIC
Product code: PRDHK4
Booking Ramp Camp Programs
Ramp Camp can be booked in blocks for 3-5 consecutive days - when you select a date above, you are selecting the Start Date for your booking. We've made some changes to the Ramp Camp program too - with new activities, challenges and games for the kids...
Each Day, kids will be put into groups with an instructor, and as the have their different skate park sessions, they'll be given a list of challenges to complete. Each Team will have to work together to finish them, and there will be daily and weekly prizes for the most successful team.
3 Days - $199.95 p/person / 4 Days - $249.95 p/person / 5 Days - $289.95 p/person

5-Day Programs can be booked Mon-Fri
To see all booking options for the School Holidays, please CLICK HERE.


About Ramp Camp Holiday Sessions
Dates: See Booking Calendar - Weekdays During School Holidays*
Daily Sessions: 9am - 3pm
*No Ramp Camps on Public Holidays


Ramp Camp is our School Holiday Program where we'll take the kids off your hands for the day, show them some cool tricks, provide them with lunch, and just generally have a rad time! You can book for a 3-5 day ticket (days are consecutive in a single week).
These sessions are suitable for kids aged 6 - 14, who are confident enough to know when to take turns, ride in a group, and get around the skate park already. If you're a first-timer, or not very confident in the skate park, we'd recommend you try one of our Coaching Clinics first - if you're not sure, give us a call on 03 9311 3998 and our staff will help you out.
During the camp, the kids will be put into groups of similar abilities with a Rampfest Group Leader who'll show them around the park and give them tips throughout the day. Please note though, that Ramp Camp is focused on fun and group free-riding - if you're looking for more specific coaching and skill development, please check out our Coaching Programs.
Daily Ramp Camp Schedule
Please Note this is a guide only - daily schedule can vary.

09:00am - Drop Off & Free Ride (anytime between 9am - 10am)
10:00am - Daily Intro, Warm Up, Break into groups for the day (morning tea food out for kids to grab at their leisure)
10:30am - Skate Park Rotations - moving around the different skate park areas with your Group Leader
12:00pm - Lunch - Varies between sandwich platters, chicken rolls, BBQ
12:30pm - Skate Park Rotations - moving around the different skate park areas with your Group Leader
01:30pm - Afternoon Tea - selection of fruit & muesli bars
01:45pm - Competitions & Challenges + Daily Prizes!
03:00pm - Free Ride & Pick Up. Formal programming is finished, a Group Leader will continue to supervise the group until 6pm for last pick ups.